Emblem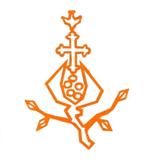 The emblem of the Sisters of Charity of St.John of God is ripped open pomegranate with St.Thomas cross. The bursting fruit expresses the need for love to expand and the cross reminds that there can be no charity with out sacrifice.
It is taken because of its rich symbolism and its association with city of Granada, where St. John of God lived and died for the suffering humanity .
There is a legend that when john of God was wandering with a mind full of passion for doing good for the needy and a heart full of mercy and compassion the child Jesus appeared him giving pomegranate told him " Granada will be your cross ".
The congregation of SCJG is established in the Syro Malabar Church. So the symbols of pomegranate and St.Thomas cross are combined. St.Thomas cross reminds the responsibility to assimilate and live the spirituality of Syro Malabar church and pomegranate signifies John of God's mercy, hospitality and passion in doing good to the poor, the needy and the suffering.
Charism
The charism of our congregation consists in seeing Jesus in the sick,the poor and the needy we come across daily and in loving and serving them just as we experience the presence of Jesus in the Blessed Sacrament.